An overview on the xWifi, a fingertip-sized, Open Source, wifi module by xThink Lab
Update: please, be careful as this review is based in previous version of this device. It has been updated lately from the manufacturer. Original files are not available anymore from it source so I publish here two of them.
Would you like to command over wifi out of the box from you smartphone for $3,8? Then here you have it. It's mains features are:
SoC – Mediatek MT7681 802.11 b/g/n SoC with 32-bit RISC CPU. Support for Client/softAP mode. Package size 5×5 mm

Storage – 512KB SPI Flash (for firmware)
I/Os via headers:
UART and SPI interfaces.

5x GPIOs

PWM

Power – 3.3V, GND
Power Consumption – ~70mA  @ 5V (during RX active)
Dimensions – 14 x 17 mm
The standard package I got yesterday (but ordered some months ago in the Indiegogo campaign for $19, now it's different, please see comments below) came also with a "Dock" board (the white one that you see in the pictures):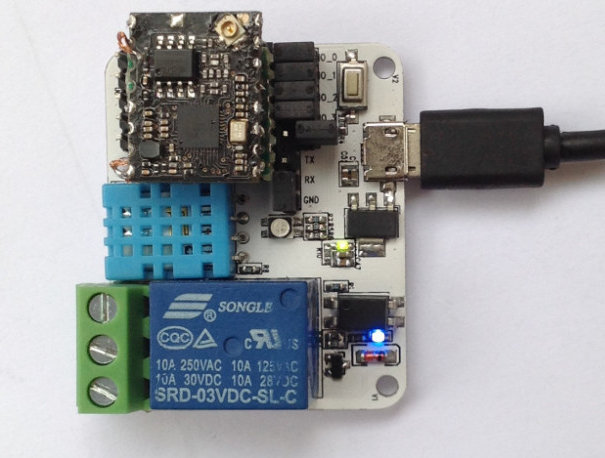 That Dock board has:
Relay – Songle SRD03VDC-SL-C – 3V for control pins. 230V/10A support.

Sensors – Humidity & Temperature sensor

Header – 2x 8 pin header for xWifi module

Misc – 3-color LED

Power – 5V via micro USB port

Dimensions – N/A, estimated ~ 4 x 3 cm
I got the whole thing from the Indiegogo campaign ordered on September 2014.
The xThink Lab team that developed the whole thing, gives you via download some interesting packages*:
*packages are not available anymore online, so I publish here two of them.
to create specific firmware for the xWiFi, communicate and develope new solutions, but as I'm not expert on it I have to expend some time to know how to use it...
However, with the demo app you can handle the board to change the three-colour LED, also to command the AC/DC relay and read the temperature and Humidity. No so bad.
This little piece of technology has gained its mometum through Internet and some examples are here:
In next updates I hope to post some advancements I do with this great little piece of technology.
But now I need help (I think it will also good for other interested on this module). I want now to develop some easy applications to get data to PC and command with some easy front end. Any idea? (I saw the whole bunch pack of software to compile but it looks quite hard to start for a novice on communications and programming).
Could be helpful to have:
a list or at least one open software environment to program (SDK) to program the micro-controller.

a list or at least one open software environment to program (SDK) to program the Android, easy please.

a list or at least the name of a module to connect from USB to UART the Dock board... (Hard)
If you have any suggestion please don't hesitate to comment here! Thanks!
Update 9 of January 2015: in the Indiegogo campaign there is not Dock board anymore, nor the Mediatek MT7681 but it is based now on the ESP8266EX module with FCC certificate, it still deserves good atention as it has many good functions as we saw already. The price is $19 but it has 5 IoT modules :-).